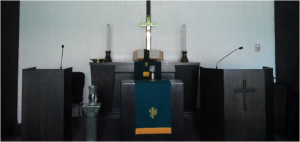 Our Nichigo congregation holds worship service in their native tongue: Japanese.
Worship service is held in the sanctuary across from the English sanctuary. Both services begin at 10:00 a.m. They are part of our whole church family and continue to share the rich Japanese heritage with all of us. Time spent with them includes great fellowship, gochiso [delicious] food, and friendship. All are welcome!
On the first Sunday of each month, the two congregations join together in one service in the English sanctuary to receive communion.
GREETINGS IN JAPANESE
Ohayo Gozaimasu: "Good morning"
Konichiwa: "Good Afternoon"
Konbanwa: "Good Evening"